A free hytale server website for your new hytale server. Fully responsive, good looking, what is there not to love? This portal is designed with SEO in mind, to help your server come up top on google!
Fully responsive ★ Good looking ★
Free portal
What is there not to love?
​
Features:
-
Fully responsive design
; Looks great on computer, tablet & mobile.
-
User-friendly interface
; Images are from crafttilldawn which stand out and are understandable, presented in a user-friendly way.
-
Editable logo, background image, icon links and server name
! You have full control over this portal and can edit what you like.
-
Created cleverly
; If you remove/add more icons it will automatically make the width work.
-
FREE DOWNLOAD!
My template is completely free to use! But please make sure to leave the credit either in the footer or code
LIVE PREVIEW:
https://bybilly.uk/hytaleportal
Installation:
Step 1)
Ensure you have
web hosting
and a
domain
- These are required to create your server website!
Step 2)
To find the portal files, download it from above and open the .zip file!
Step 3)
Login to your website's
FTP server
(You can do this using
FileZilla
) and drag the contents of the .zip file you opened into 'public_html'.
Step 4)
Enjoy the portal!
Need any help? Make sure you send me a PM!
OPEN THE SPOILERS BELOW + FOLLOW ALONG
Step 1) Go to the 'img' folder.

Step 2) Replace logo.png with your logo! Make sure it's named 'logo.png'. If your logo is not a png format (e.g. jpg) send me a PM and I'll help you make it work!

Step 1) Go to the img folder


Step 2) Replace minecraft.jpg with your image named 'minecraft.jpg'. If your image is not a jpg format (e.g. png) send me a PM and I'll help you make it work!

Step 1) Using a text editor (I recommend using 'Sublime Text' or 'Atom' as a text editor, but NotePad works), open index.html.
Step 2) Go to the part highlighted on the image below, and replace the underlined text with the appropriate URLs. Send me a PM if you need any help!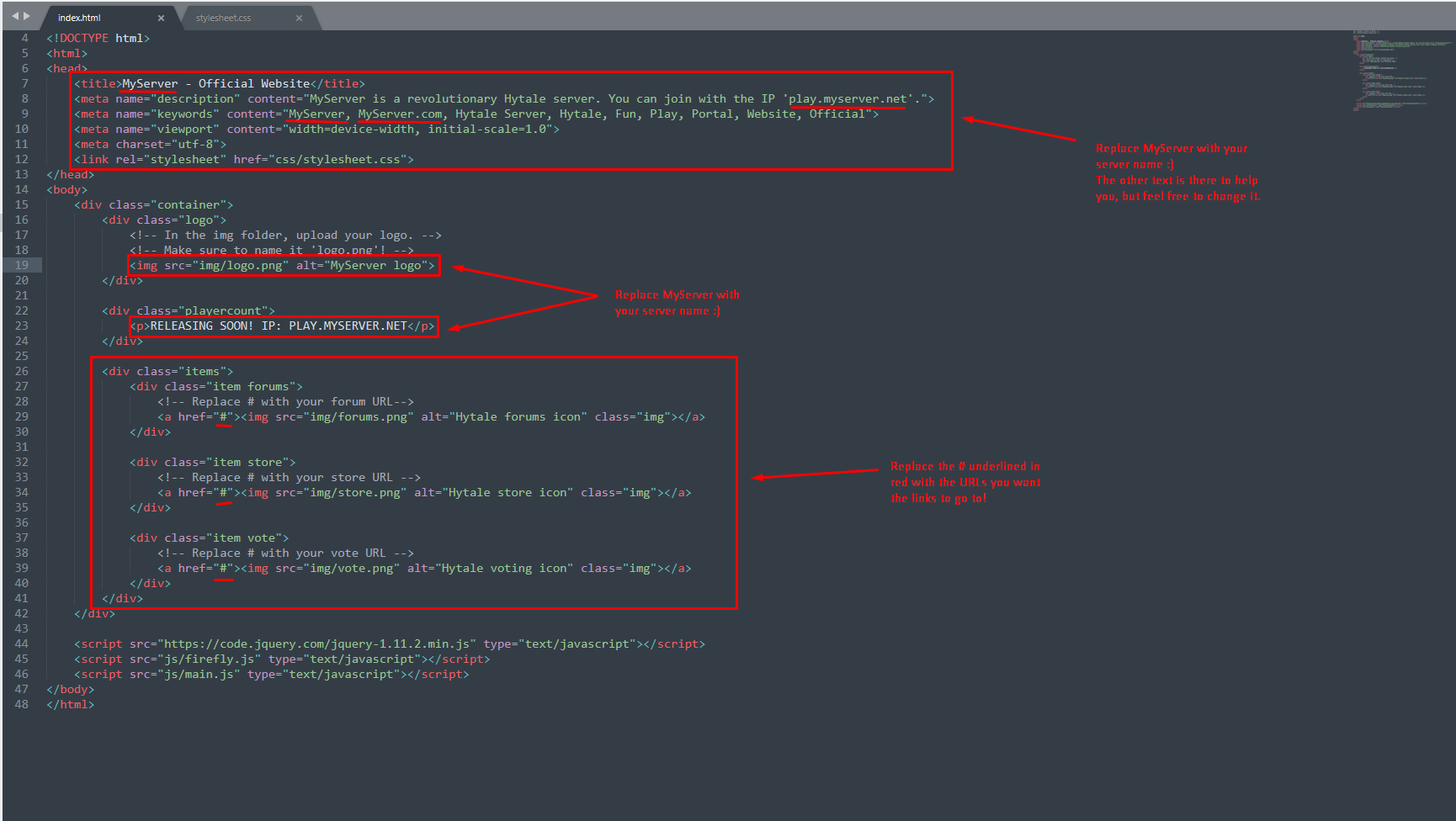 ​
IMPORTANT
If something is wrong, be sure to contact me before leaving a bad review. Most of the time one of us has made a small mistake, which can easily be fixed! PM me for any help you need!
Please consider leaving a review if you enjoy!
Enjoy!
Billy
2