HytaleHub: Trophies
Trophies are rewarded when you accomplish certain feats HytaleHub.com such as posting a specific number of messages, garnering a certain amount of likes, posting a certain number of threads, sharing a certain number of resources, or spending/donating a certain amount.
Whenever a trophy is acquired, you will receive a notification under your alerts tab that looks like this: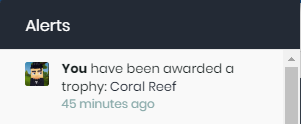 You can view your currently acquired trophies any time by visiting the about section of your user profile page.
List of Trophies:
Trophies are listed in ascending order based upon the number of trophy points each one gives you.
Kweebec
- Awarded upon posting your first message
Trophy Points: 1
Blue Lagoon
- Awarded for sending your first message in chat
Trophy Points: 1
Chicken Dinner
- Awarded after receiving your first like
Trophy Points: 2
Happy Cyclops
- Awarded when you upload you first profile picture
Trophy Points: 3
Cute Kitten
- Awarded after receiving three likes
Trophy Points: 5
Angry Wolf
- Awarded for sending five messages in chat
Trophy Points: 5
Extroverted Pigeon
- Awarded after posting seven messages
Trophy Points: 10
Swift Fox
- Awarded after receiving five likes
Trophy Points: 10
Polar Bear
- Awarded after posting your first resource
Trophy Points: 10
Adorable Puppy
- Awarded after posting your third resource
Trophy Points: 15
Chirping Chicks
- Awarded after posting twelve messages
Trophy Points: 15
Mister Crabs
- Awarded after receiving ten likes
Trophy Points: 15
Desert Viper
- Awarded after receiving fifteen likes
Trophy Points: 17
Frost Spider
- Awarded after posting twenty messages
Trophy Points: 20
Sleeping Buffalo
- Awarded for sending one hundred messages in chat
Trophy Points: 20
Mystical Deer
- Awarded after receiving twenty likes
Trophy Points: 25
Sprinting Antelope
- Awarded after donating $5
Trophy Points: 30
Piggly Wiggly
- Awarded after posting thirty messages
Trophy Points: 30
Angry Piranha
- Awarded after posting your fifth resource
Trophy Points: 30
Nightcrawler
- Awarded after donating $10
Trophy Points: 35
Deepwater Shark
- Awarded after donating $20
Trophy Points: 35
Golden Eel
- Awarded after receiving thirty likes
Trophy Points: 35
Flying Saucer
- Awarded after donating $30
Trophy Points: 40
Shivering Yeti
- Awarded after donating $40
Trophy Points: 45
Shadow Skeleton
- Awarded after posting fifty messages
Trophy Points: 50
Proud Stag
- Awarded for sending two hundred and fifty messages in chat
Trophy Points: 50
Peter Cottontail
- Awarded after receiving fifty likes
Trophy Points: 55
Pufferfish
- Awarded after posting seventy five messages
Trophy Points: 75
Electric Jellyfish
- Awarded after receiving one hundred likes
Trophy Points: 90
Coral Reef
- Awarded after posting one hundred and fifty messages
Trophy Points: 100
Cunning Leopard
- Awarded for sending five hundred messages in chat
Trophy Points: 100
The Kraken
- Awarded after posting your tenth resource
Trophy Points: 100
Spitfire
- Awarded after receiving two hundred likes
Trophy Points: 175
Blue Parakeet
- Awarded for receiving five hundred likes
Trophy Points: 325
Magical Trout
- Awarded after posting five hundred messages
Trophy Points: 450
The Last Hero
- Awarded for receiving one thousand five hundred likes
Trophy Points: 850
Fields of Eternity
- Awarded after posting one thousand messages
Trophy Points: 900
Void Dragon Lord
- Awarded after posting two thousand messages
Trophy Points: 1,500