Buytale
Buytale.org
| Buytale TM is an upcoming gameserver monetization platform for Hytale servers. Buytale will be completely free to use. The purpose of Buytale will be to offer the cheapest and most easily adaptable server monetization platform to both server owners as well as regular Hytale players. Buytale is an incorporated entity of Hytale Hub LLC.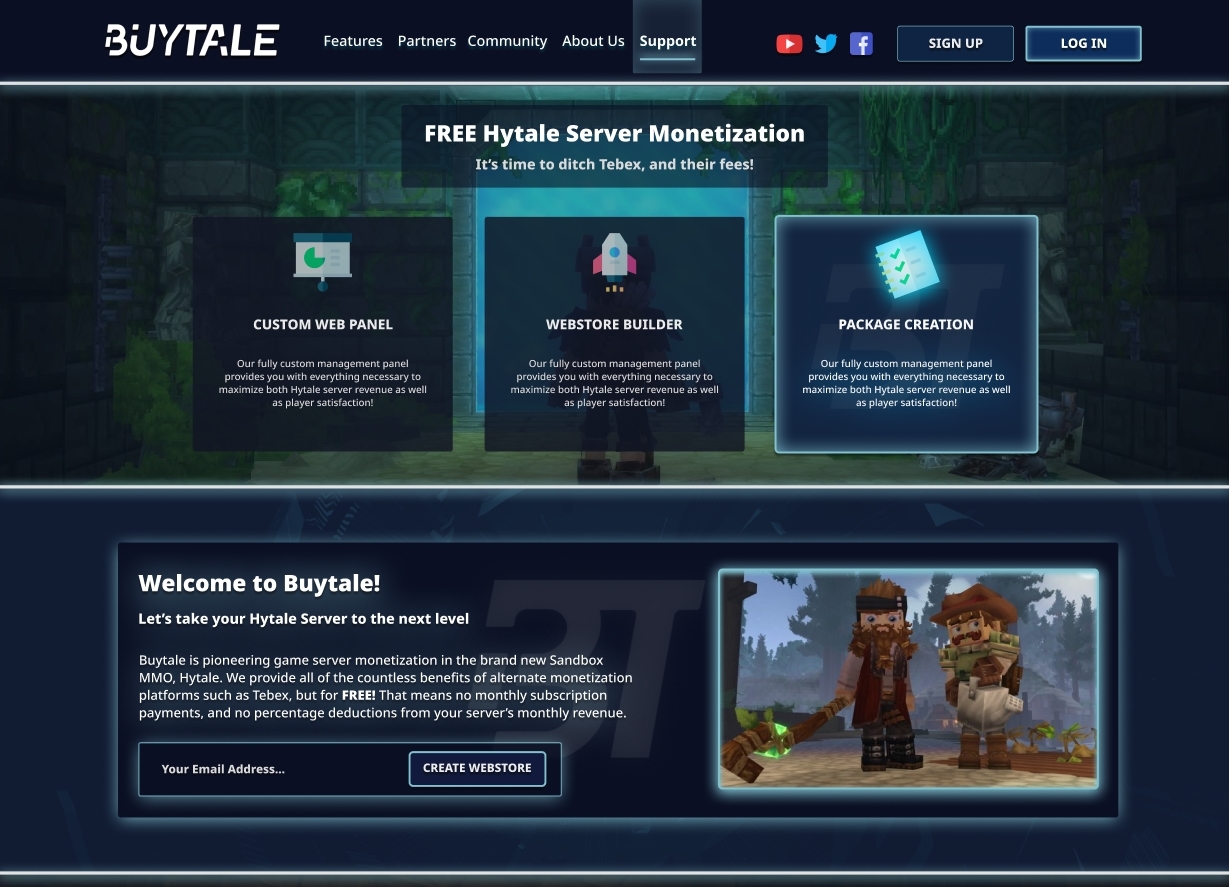 Features
In-depth and advanced statistics for purchases, revenue, re-purchase rates, package popularity, and customer loyalty.
Easy to use payment management system with insightful data into every purchase made by any customer/player.
In-depth engagement statistics to see which packages players/customers are viewing the most.
Advanced tiered permissions system for team management so that multiple Staff members can access/manage your Buytale server store.
Analytics tracking to monitor precisely where traffic to your site is coming from.
Customizable affiliates system with dynamic payout ratios to encourage your players to market your server store on your behalf.
Built-in SSL certificates to let your customers know that their data is safe and that your website is secure.
Advanced and fully customizable fraud protection algorithms designed to prevent users from getting away with chargebacks and disputes.
Fully customizable coupons, sales, and gift codes.
Configurable customer data collection and logging options to determine the extent of the information you'd like to store on your users. (I.E. - IGN, email, IRL name, address, etc.)
Configurable in-game server announcements with adjustable timers to inform players of ongoing sales and other opportunities.
Fully customizable integrated Discord bot which can announce ongoing sales, purchases, new/limited time gift codes, and more.
Abandoned Cart Recovery designed to recover lost sales and increase overall revenue by reminding players of unfinished checkouts at configurable timestamps with optional discount rates to encourage further purchases.
24/7 Live Chat support. (No account required)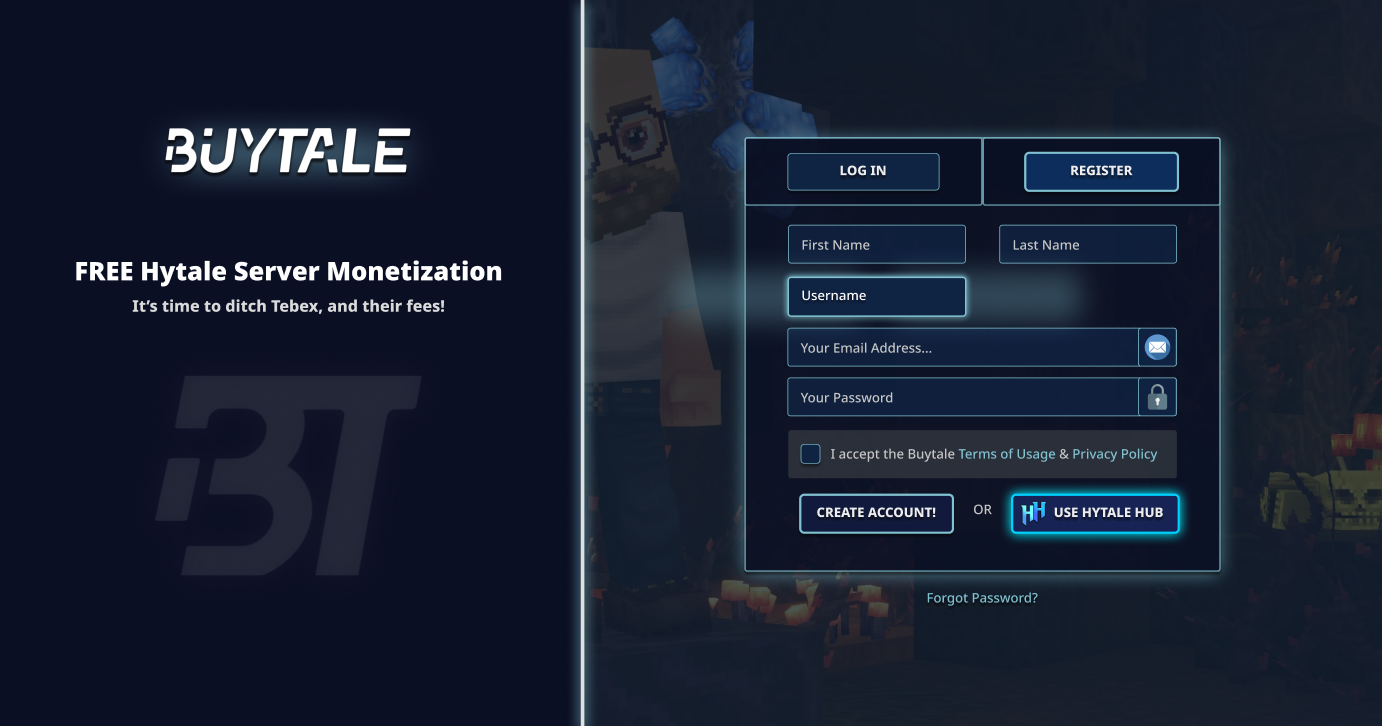 Plans
By default, all features of Buytale.org are 100% free to use with no limitations whatsoever. There's no monthly subscription fees, and no restrictions on what you're able to do. It's our mission to make the process of establishing a server in Hytale as easy and affordable as possible.
Affiliate System
Since Buytale is completely free, and we don't actually sell anything, there's no way to receive a percentage of sales on a purchased good. Instead, we offer discounts on transactions fees for customers who refer new users to Buytale!
Whenever you refer a user, and assuming he or she begins selling virtual items through Hytale, you will receive a deduction in total monthly sales fees equal to 50% of whatever that user's total monthly sales fee amount is.
Example Scenario:
Referred User Generates $5,000 in first month. His 2.5% monthly sales fee will amount to roughly $125.
You will receive a $62.50 discount off of your sales fees for that particular month.
You will be able to receive discounts each month forever from each user that you refer. However, the scale of the discounts will vary based upon the order volume of your affiliated referrals. Tthe more people you refer, the greater your total sales fee deduction amount will be!
Payment Methods
The following Payment Methods will be offered at Buytale. Server owners will be able to configure which of these they'd like their players to be able to check out with.
Stripe
PayPal
PaySafe
PayGol
Skrill
Mollie
Xsolla
Bitcoin
Litecoin
Checkout Fees
A $0.50 + (5% of Total Purchase Value) Fee will be applied to the total Purchase amount upon checkout. This small fee exists in order to ensure that Buytale can remain online, and totally free to use for all of our clients.
Branding Removal
For credibility purposes, all Buytale sites created by users contain Buytale branding on the footer of each webpage. This branding can be removed for a one-time $15 charge.
Project Roadmap
January, 2019 - Buytale Project announced
March, 2019 - Business Model declared, the world's first 100% free G-Commerce Monetization platform
April , 2019 - Development begins
October, 2020 - Partnership with DonationStore is announced
November, 2020 - Site design is overhauled and revealed