Joined

Dec 30, 2018
Messages

454
Likes

876
When will Hytale release?
The Hypixel Studios team has confirmed in a
2019 November Blog Post
that they intend to have a playable version of the
game accessible to
everyone
by 2021. It has not currently been specified exactly
when
in 2021 this will be happening.
Reasons for the delayed release
Prior to the incredible reception that the Hytale announcement trailer received, in which it reeled in a whopping 57 million views, as well as the later acquisition of the Studio by Riot Games, the Hypixel Studios team stated that they previously intended to release the game far earlier, as early as sometime in 2019. However, after realizing the potential that this game after it took the entire gaming industry by storm, the scope of the project altogether completely changed, seemingly overnight. The team has since stated repeatedly that they are striving to "get this right" and that a "a delayed game is eventually good, but a rushed game is forever bad", which is a quote originally made by Nintendo developer, Shigeru Miyamoto.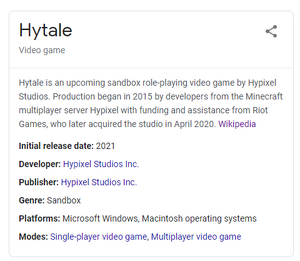 Community Response
The Hytale Community was rather split down the middle in response to roughly two years of an unspecified release date with some losing patience with the Hypixel Studios developers, but a clear majority remaining interested and understanding of the immense pressure that the team is under in order to make the initial release as earth shattering and impressive as possible.
1

1