Community Manager
Staff member
Community Manager
Site Admin
☑️Verified
Joined

Jan 23, 2021
Messages

108
Likes

74
Greetings,
Hytale Community!
For those of you unfamiliar with me, I'm Gregory S, a recently appointed Community Manager for the Hytale Hub Network. Going forward, I will be handling a significant chunk of the Network-specific update and news posts.
Boy oh boy, it's been quite a long time since we first heard about Hytale, hasn't it? It's incredible that after so long, so many familiar faces are still here eagerly awaiting what we all hope will be some sort of "playable" game later this year (2021). Today, we figured we'd give you a little bit of insight into what we (The Staff at Hytale Hub) have been doing over the past several months. Like the staff at Hypixel Studios, we too have been relatively quiet as we've been pooling most of our resources into revamping all of the sites within the Hytale Hub Network, setting up our universal SSO (single sign on) infrastructure, and overhauling various other aspects of the network's functionality, security, and usability.
Hytale Hub Network SSO
For those of you who aren't yet aware, the Hytale Hub Network's SSO
is
in fact now operational, though we do still consider it to be in an early "alpha" state, as it will undergo a number of updates and enhancements throughout the coming months and likely years. For most of you veteran users, you are likely eligible for an "account migration", meaning that you can easily transform your existing HytaleHub.com specific account into a Hytale Hub Network account by visiting:
https://accounts.hytalehubnetwork.com/migration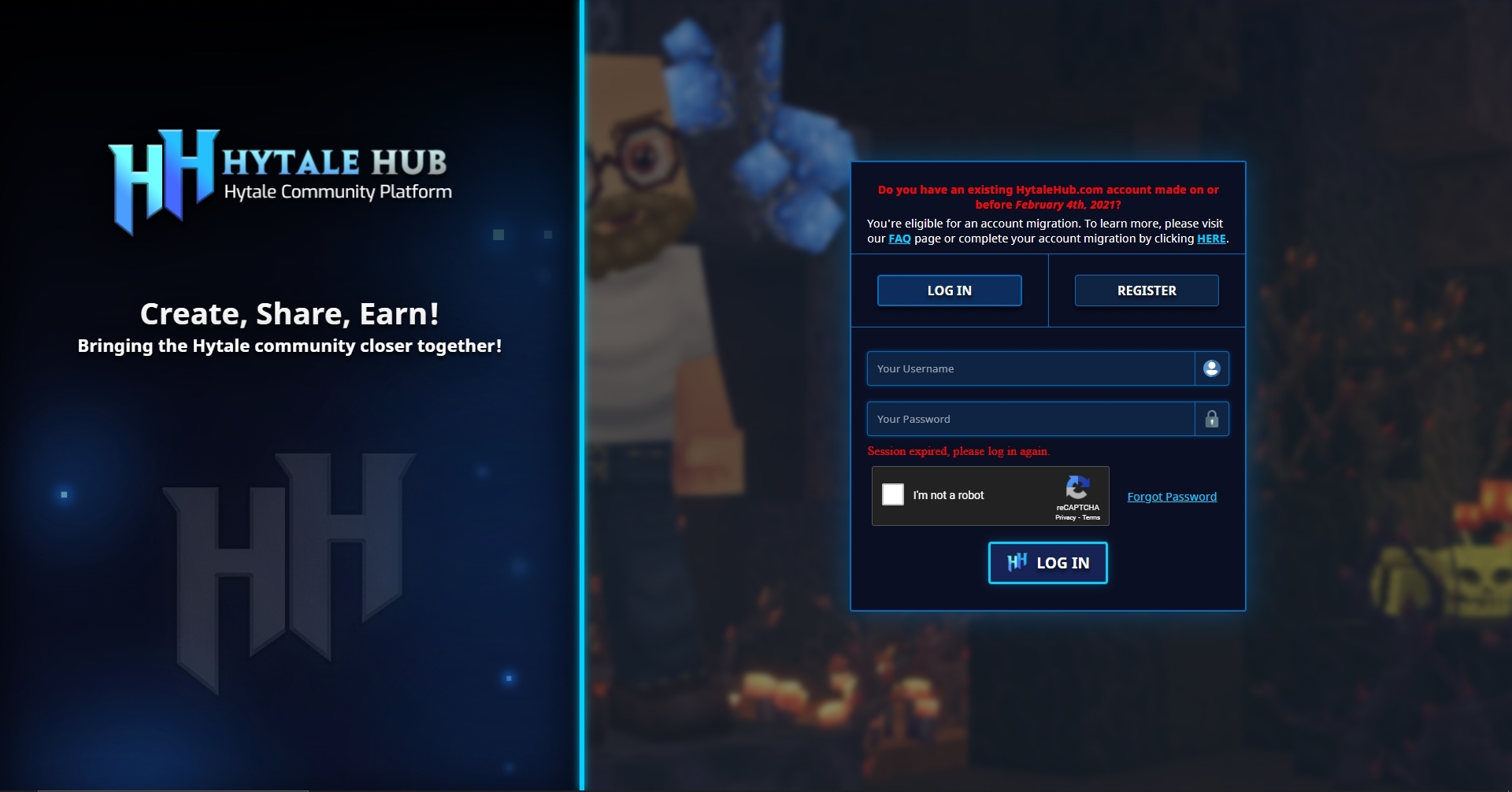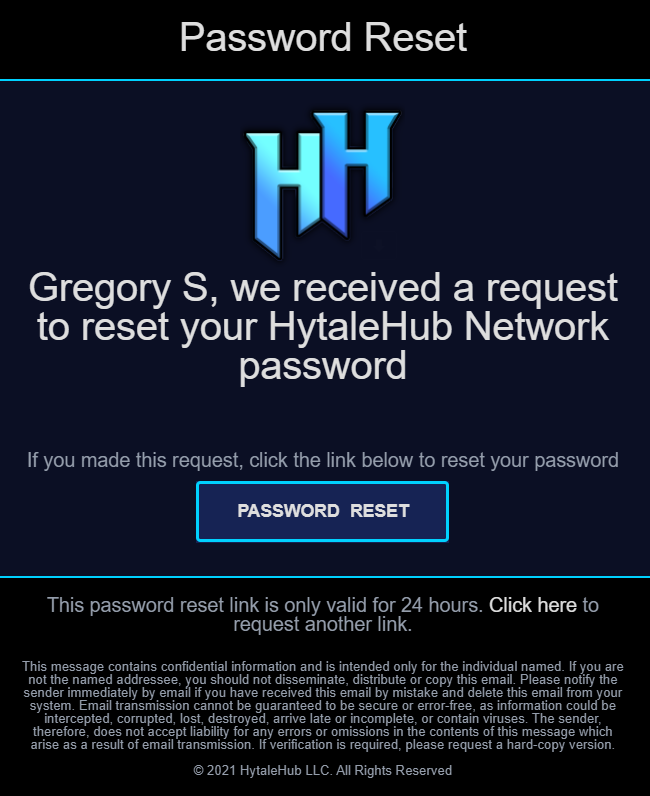 HytaleHub.com Revamp
We're aiming to publish the overhauled version of the Hytale Hub central website to the HytaleHub.com domain sometime within the next one to two months. We will continue to utilize xenforo to an extent, but for the most part, the new HytaleHub.com website will be far more versatile, and have far fewer limitations allowing us to provide you all with what we hope to be a far more enjoyable and dynamic user experience.
Because we want this particular website revamp to be more of a "surprise", we are not yet revealing any screenshots!
HytaleHosting.org Revamp
We're hoping to push the revamped version of Hytale Hosting live within a few weeks. We've totally overhauled this website's appearance, functionality, framework, and more. When completed, what we hope to provide is the most easy-to-use, but also enjoyable-to-look-at server hosting website within the industry, catering exclusively to future Hytale players and server owners. Of course, we're also looking to provide the best "bang for your buck" as well. This has always been the cornerstone of our vision for any and all paid services that we end up providing.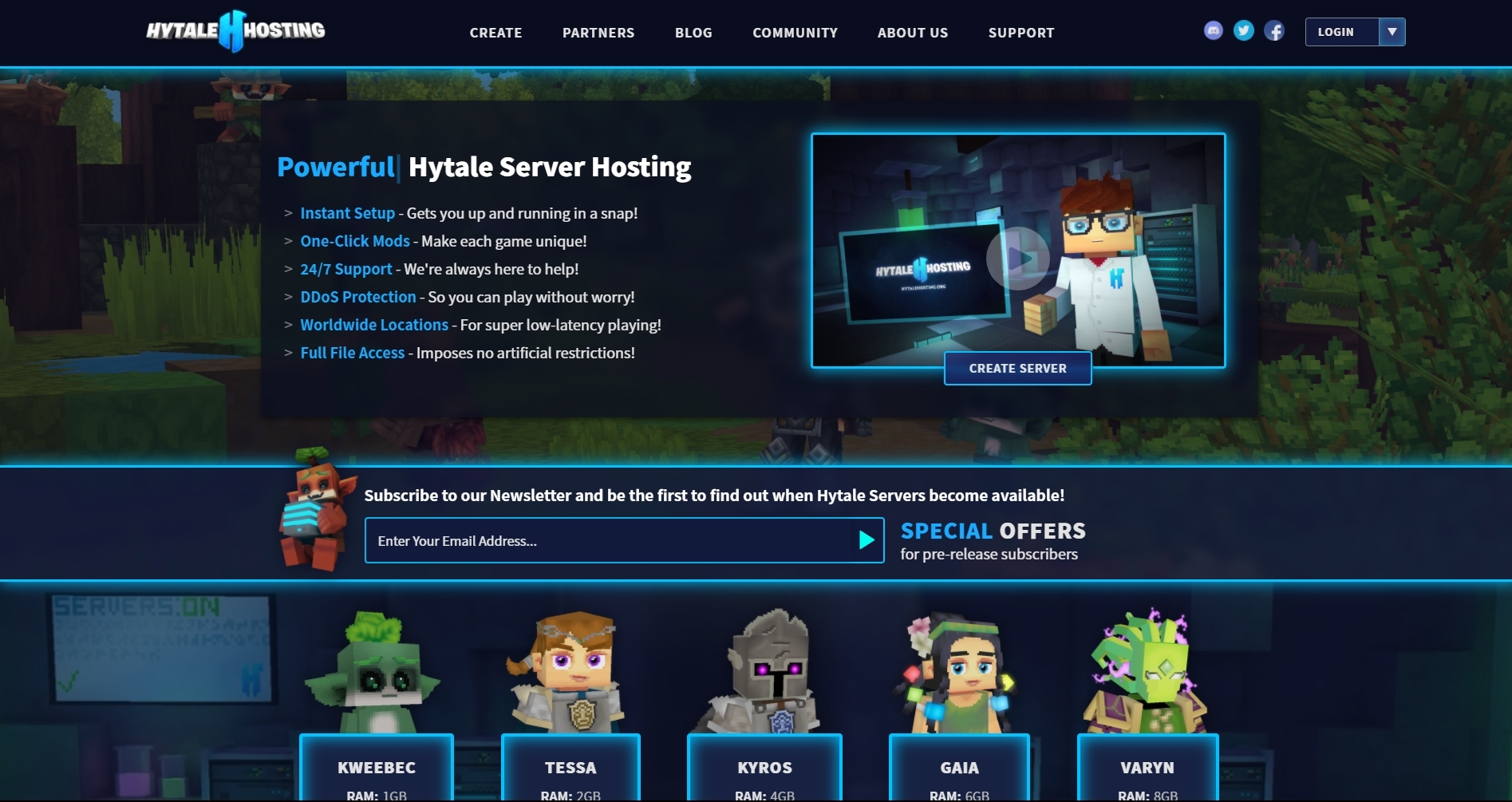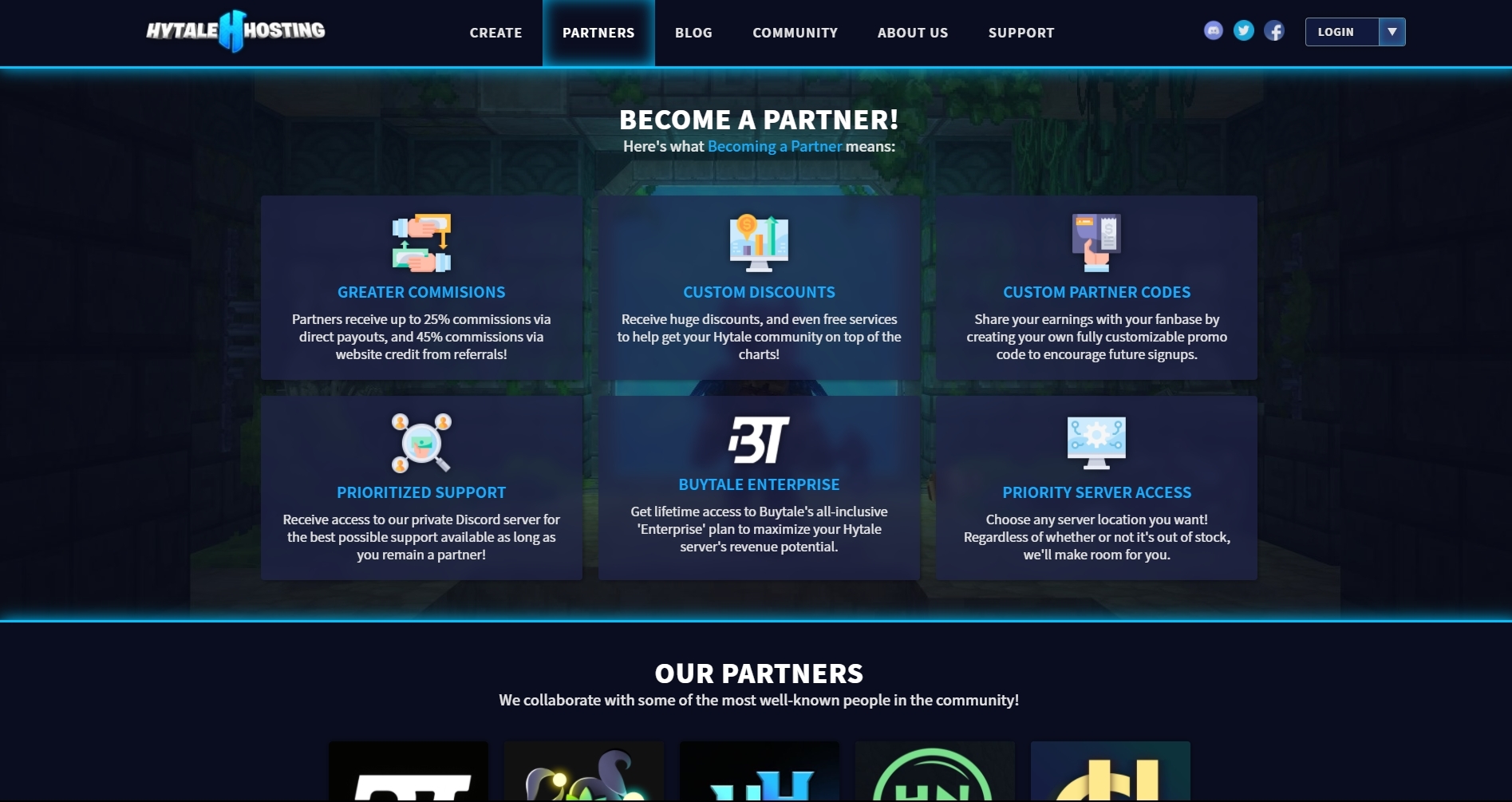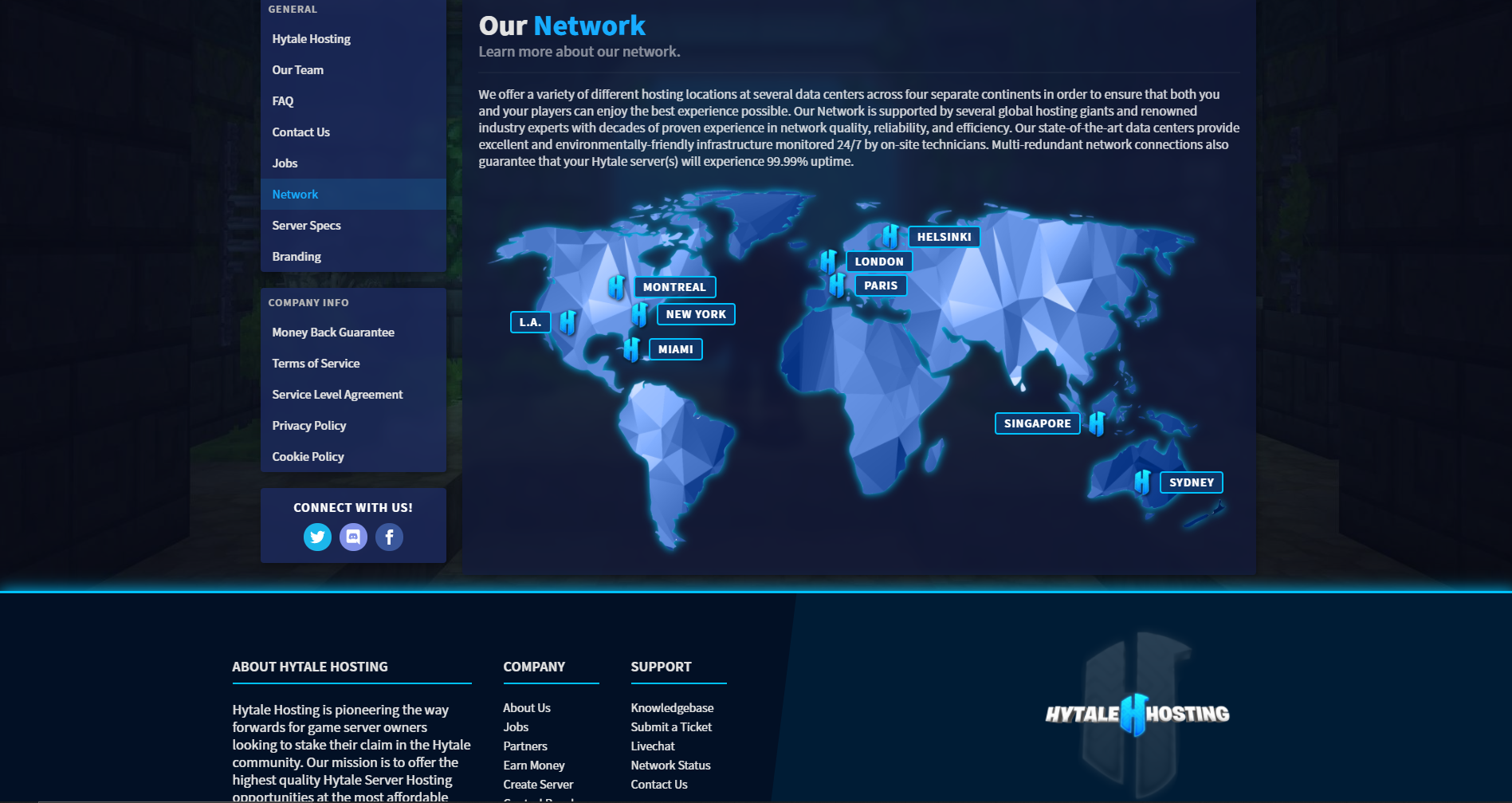 HytaleNames.org Revamp
Hytale Names received a revamp (which has already been pushed live) a few weeks ago. We completely overhauled the design, framework,and functionality of this website. Users can now sign into HytaleNames.org with their Hytale Hub Network account, should experience far more rapid data loading speeds, and can perform a host of new tasks as well, such as saving names to revisit in the future, commenting on names, viewing other user's profiles on-site, etc. Additionally, users can view more detailed search and engagement statistics in order to gauge the popularlity, (or lack of popularity) of any desired Hytale username.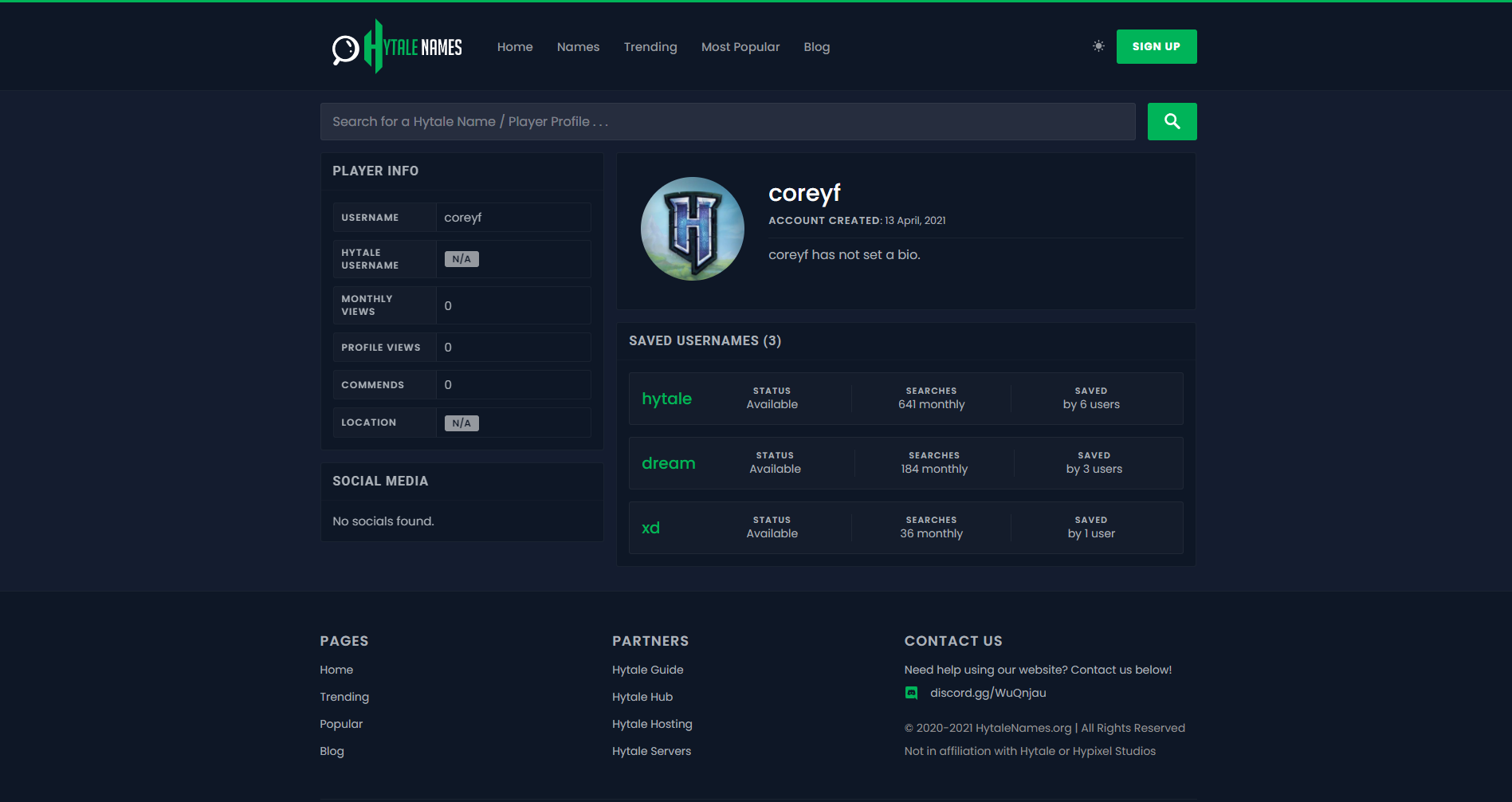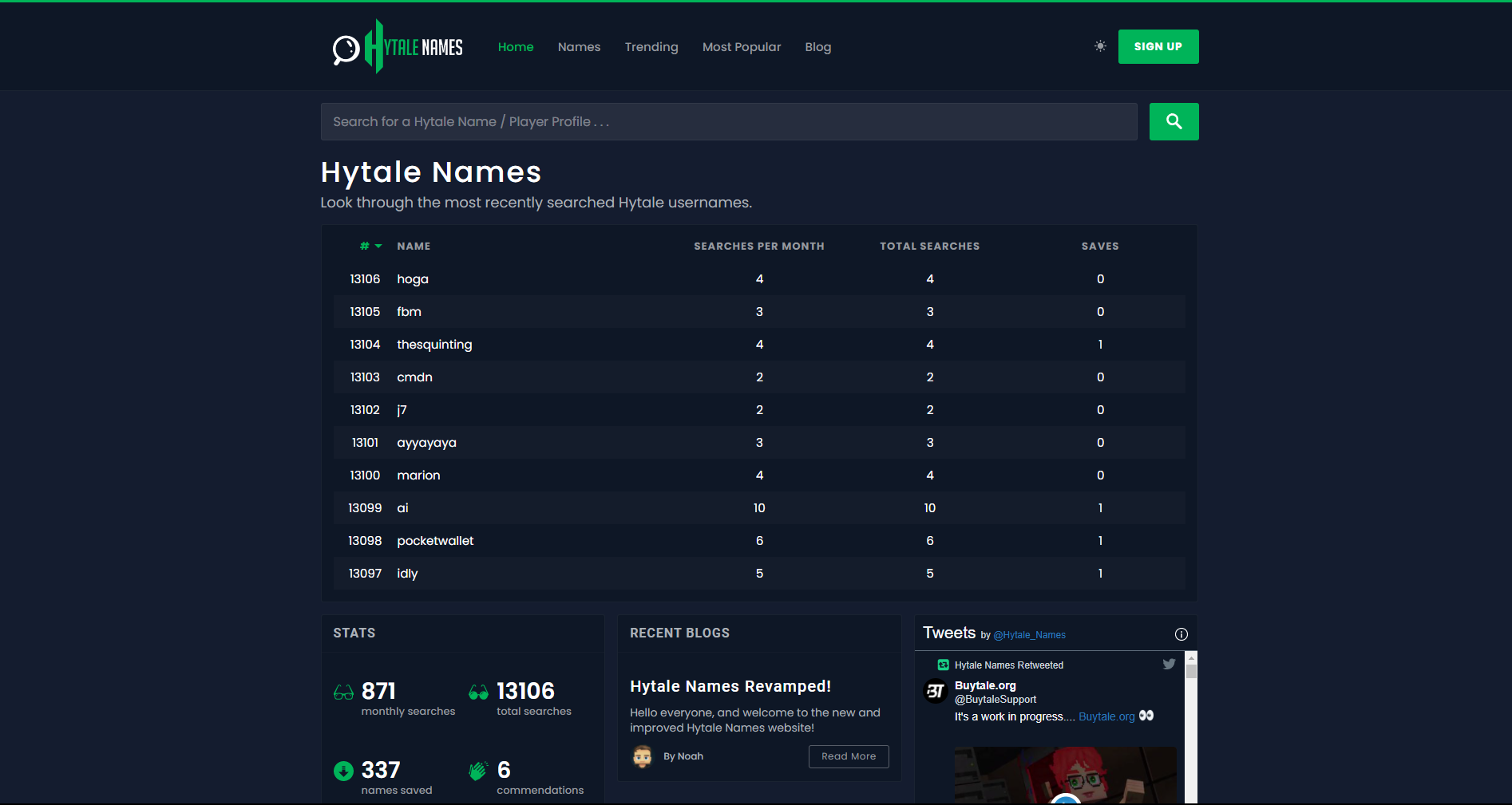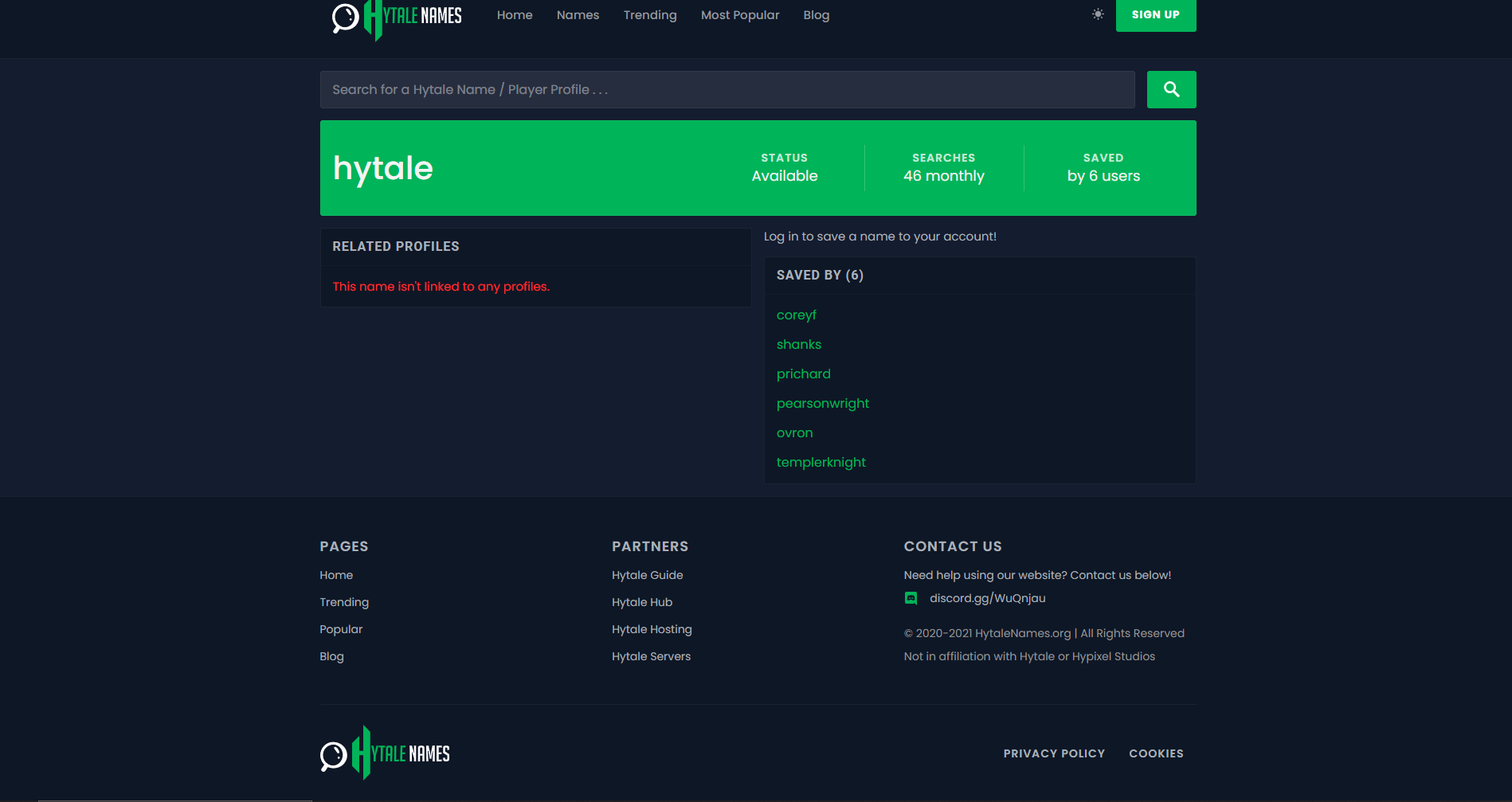 HytaleServers.gg Revamp
HytaleServers.gg is a newly announced site within the Hytale Hub Network which will likely be taking the place of the formerly announced: "Hytale-Server.com", and will compliment our other server listing sites - Hytale-Servers.com, and Hytale-Servers.org as an avenue for Hytale Server owners to further market their Hytale servers to as many potential players as possible. We want to reiterate that the purpose of our listing sites is not to attempt to replace, or compete with the official in-game server browser, but rather to "compliment" it so that in the event that a server is drowned out by competing servers within said browser, they still have other venues to go to in order to try and find players.
HytaleServers.gg is still indeed a WIP (Work-in-progress), and many more updates will be made between now and the official release of Hytale's API. Users can use their Hytale Hub Network accounts to login to HytaleServers.gg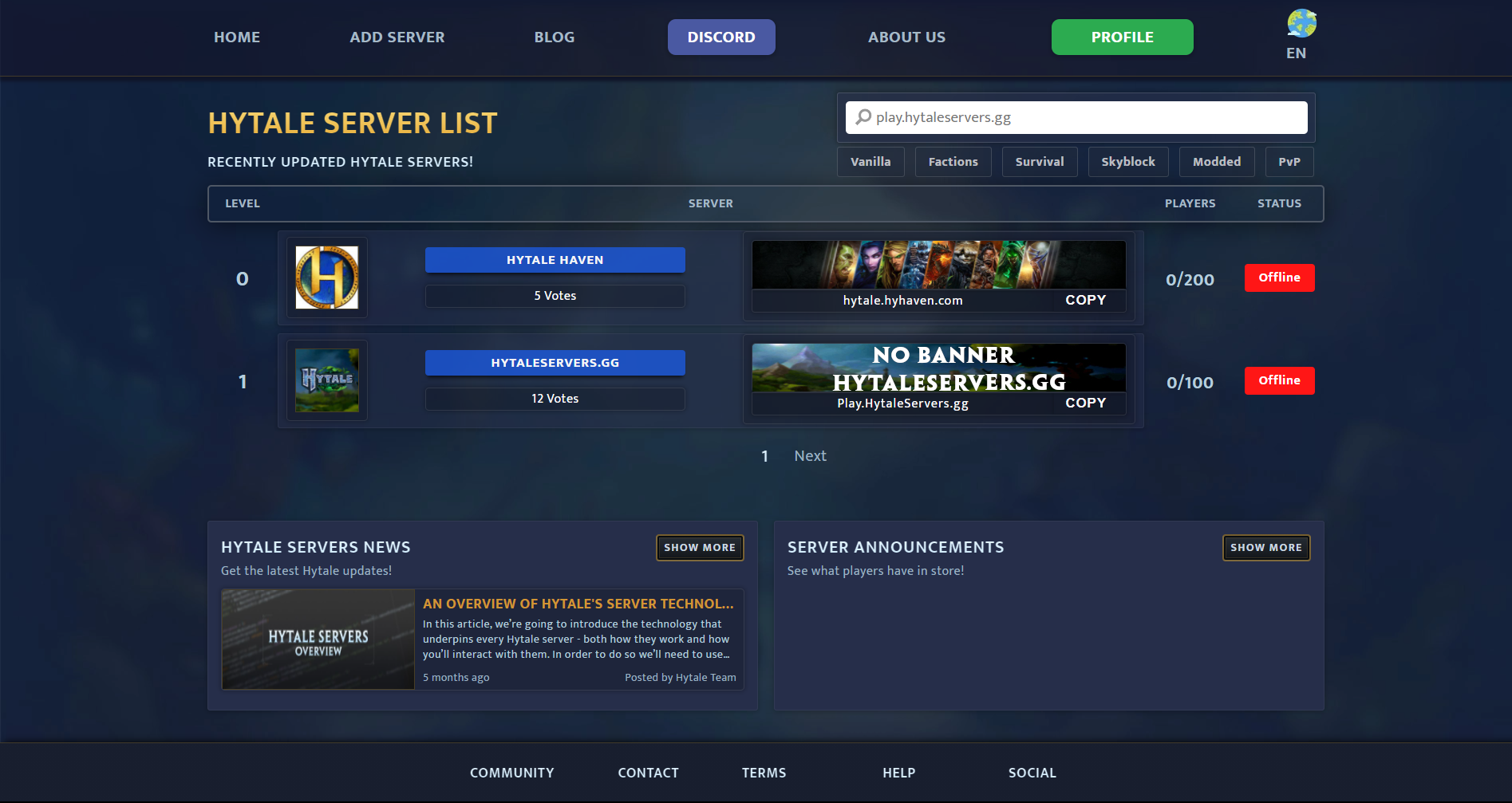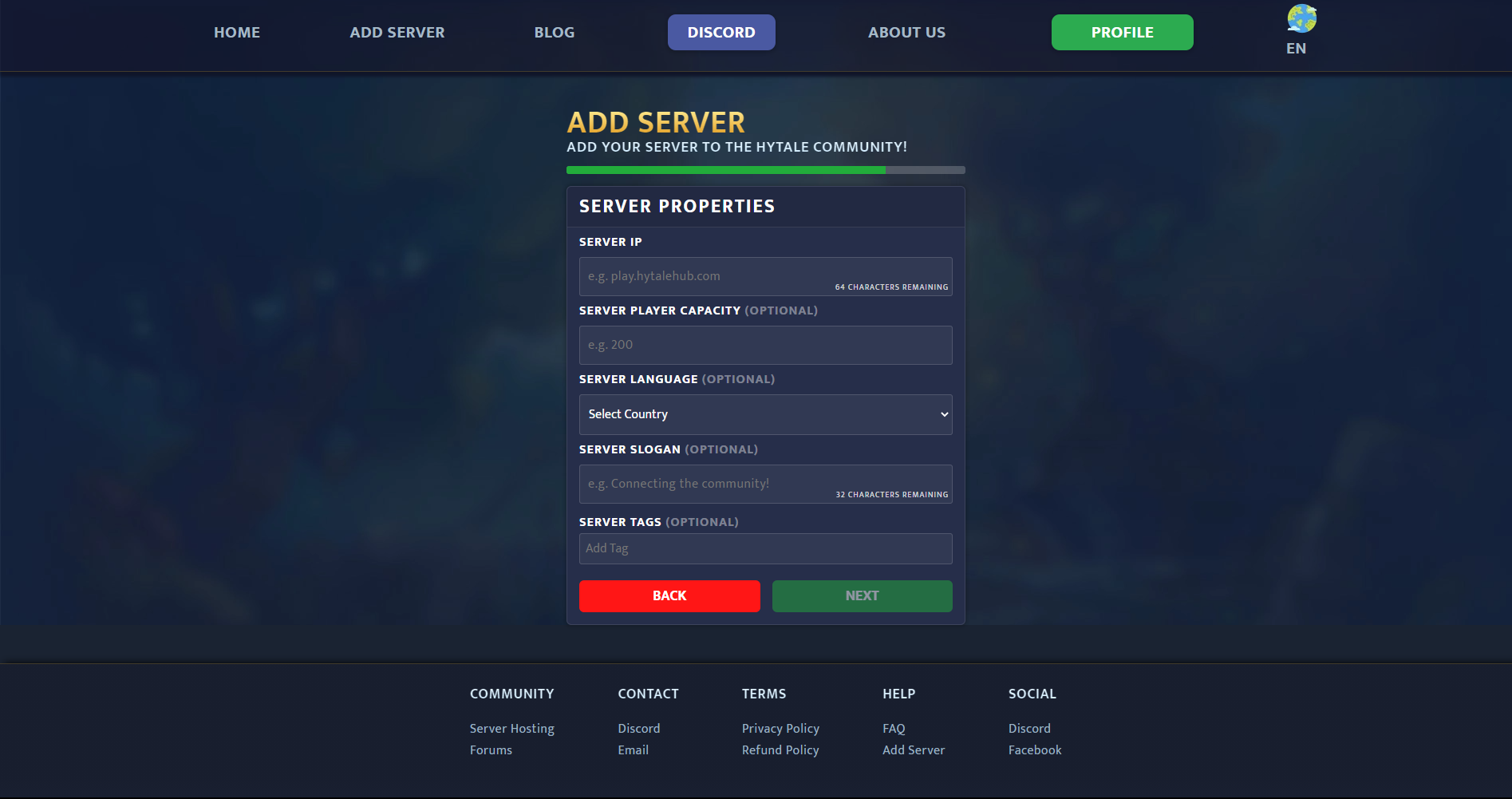 Hytale-Servers.com Revamp
Hytale-Servers.com is also still a major work in progress. Nevertheless, we have recently pushed a massive revamp to the public domain, and users may use their Hytale Hub Network account credentials to log in directly to this website. More updates to follow.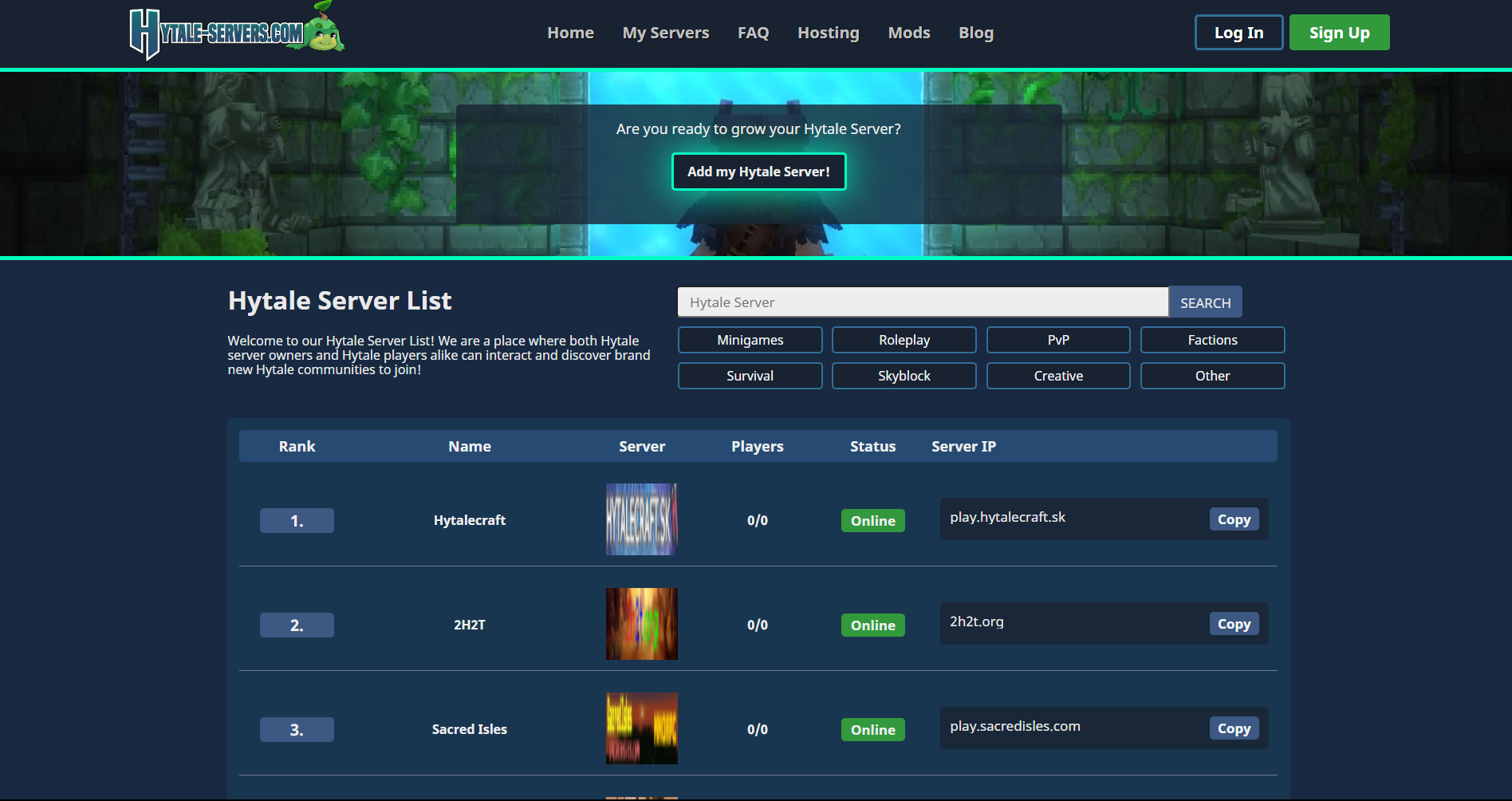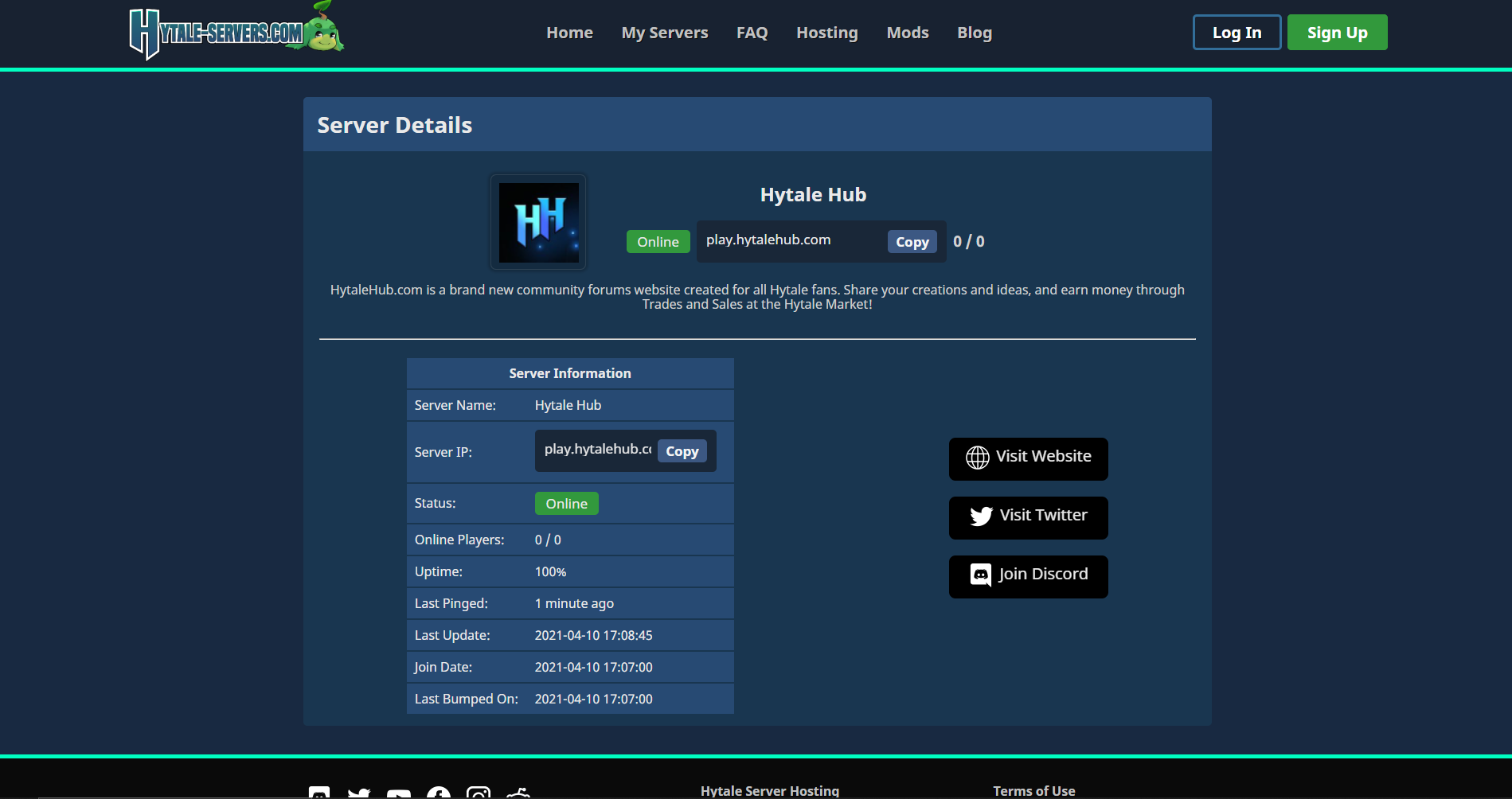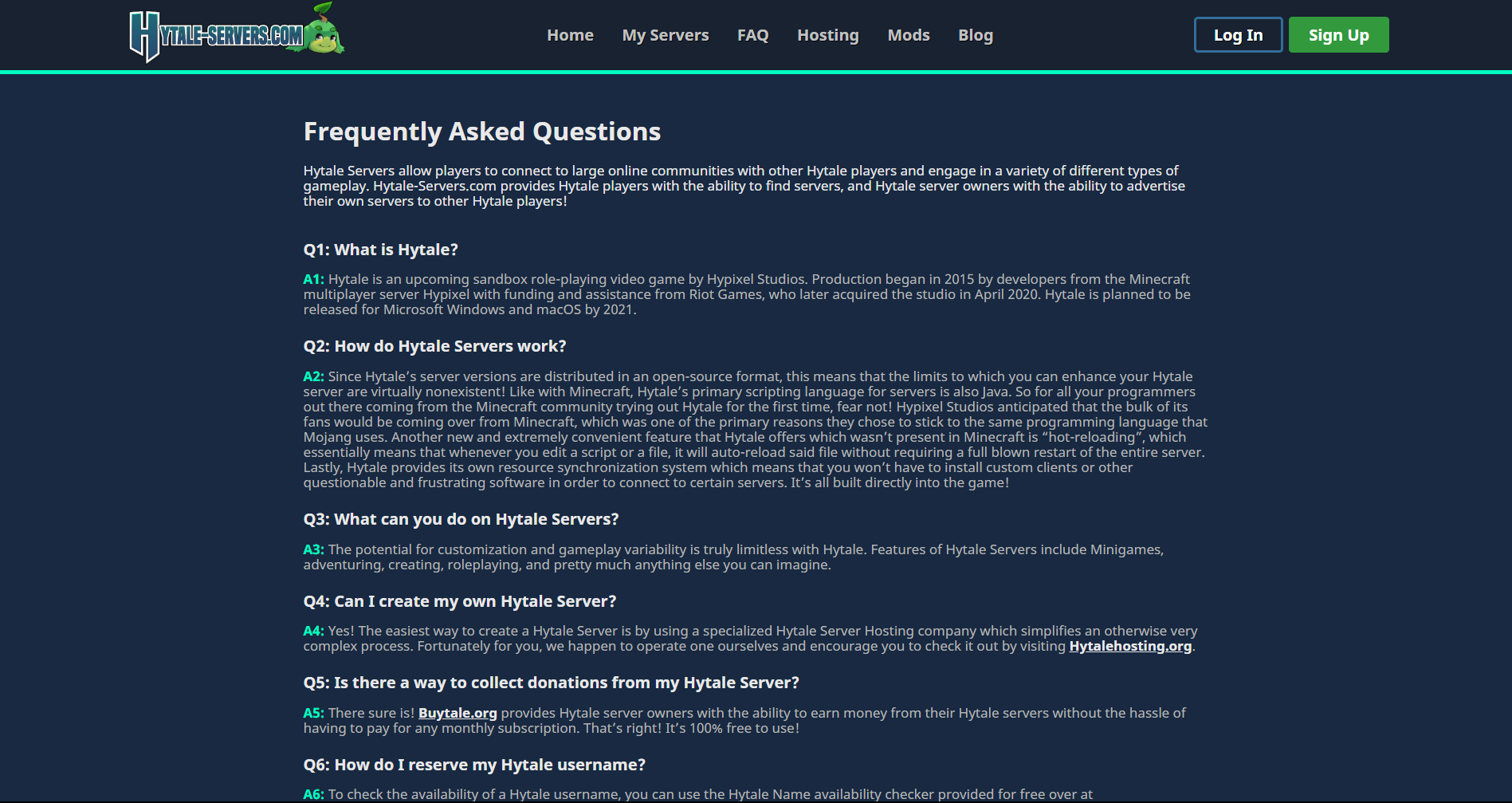 Hymoji Progress
Hymoji is still a little ways away, but nevertheless, we do still feel confident that it can be shipped out prior to the game's release. In the meantime, here's a little sneak peek into how it currently looks on the dev version of HytaleServers.gg.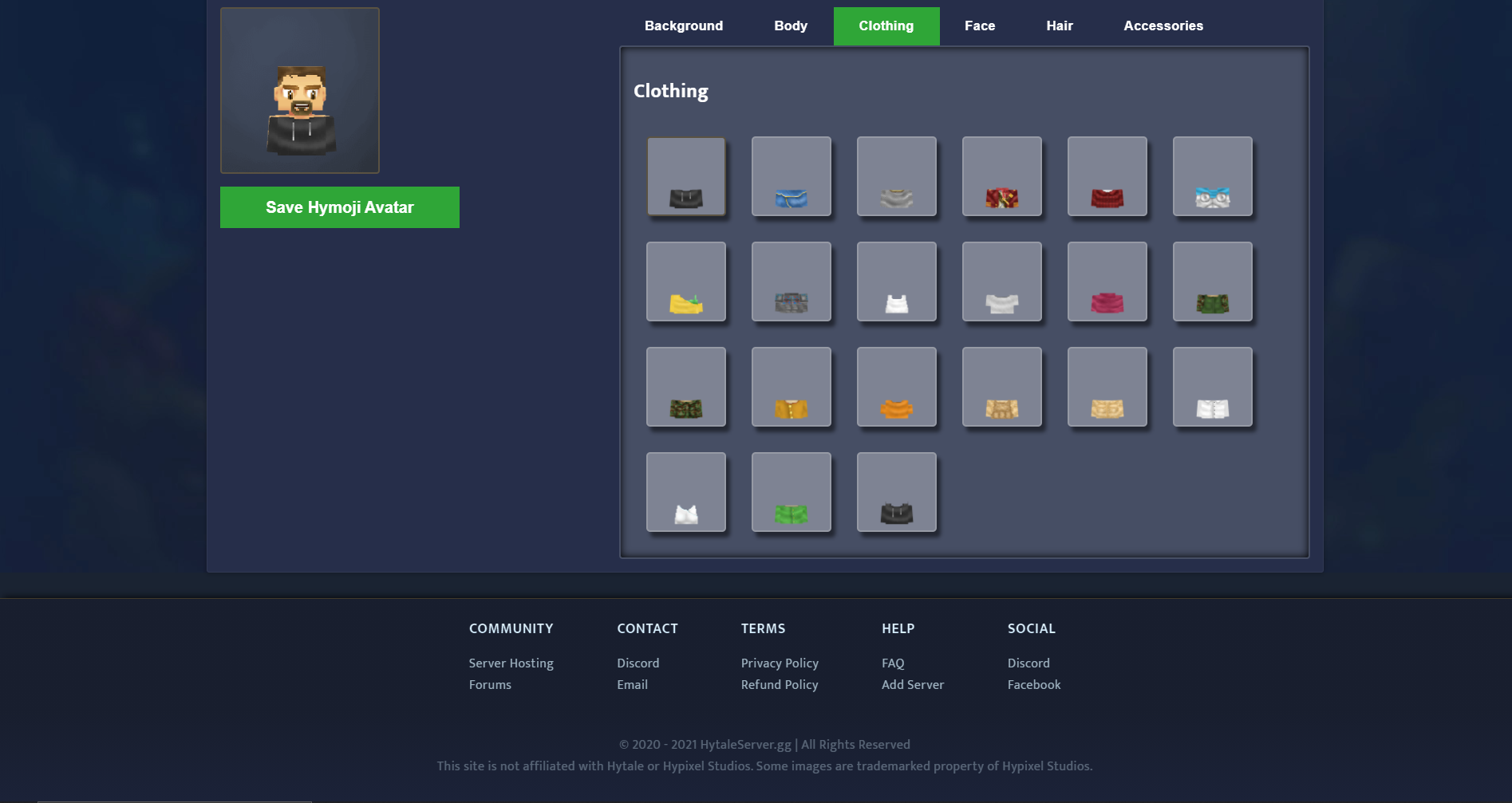 Future of Hytale Fandom/Gamepedia
For those of you who aren't yet aware, Gamepedia recently transitioned all of its urls to the fandom.com extension. As a consequence, hytale.gamepedia.com is now hosted at hytale-game.fandom.com. The Staff at Hytale Hub, and the Hytale Fandom Wikis are still discussing the best way forward, whether this be a merge, or hosting the former Gamepedia wiki on an independent url. We will provide further updates regarding this new change as time goes on.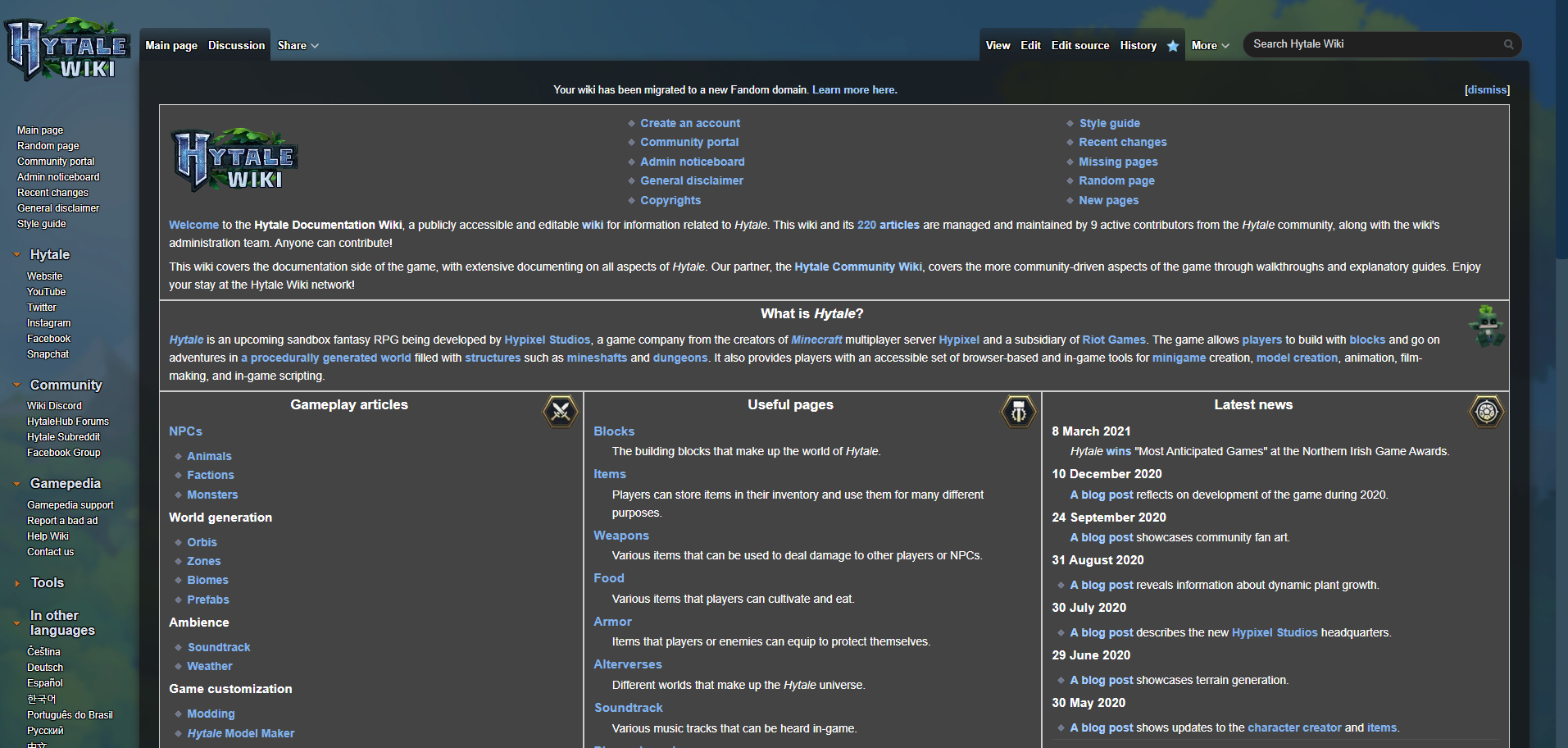 R/HytaleForum
For those of you who haven't yet joined it,
https://reddit.com/r/hytaleforum
has grown to become one of the largest groups within the Hytale community, with nearly 7,000 members, many of whom are regularly very active.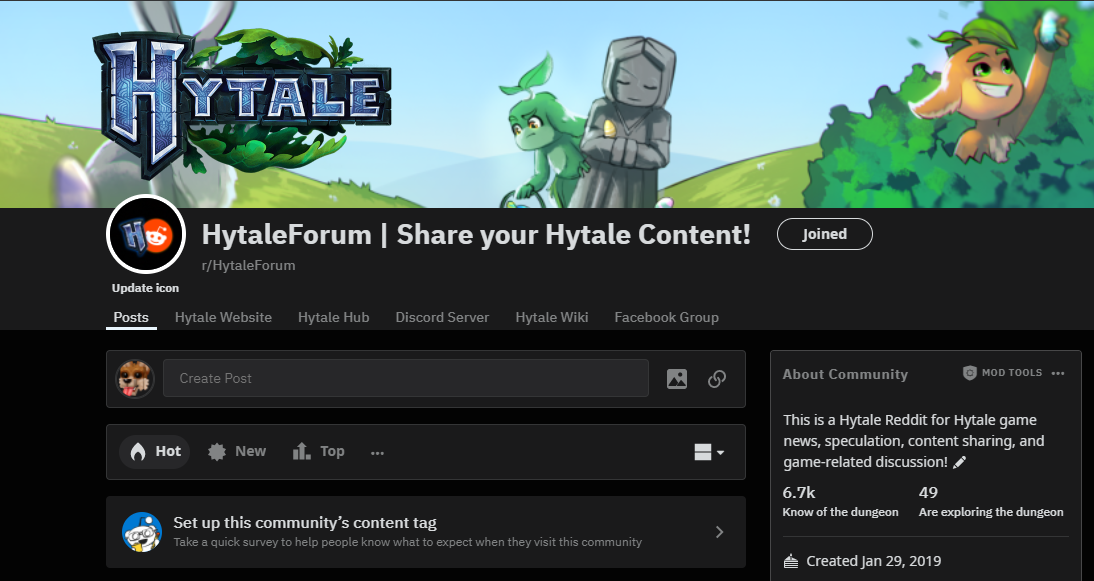 Hytale Facebook Group
Additionally,
https://fb.com/groups/hytale
has become arguably the most active gathering point on Facebook for Hytale fans. The group has over 8,000 members, many of whom regularly engage, ask questions, and post game-related content.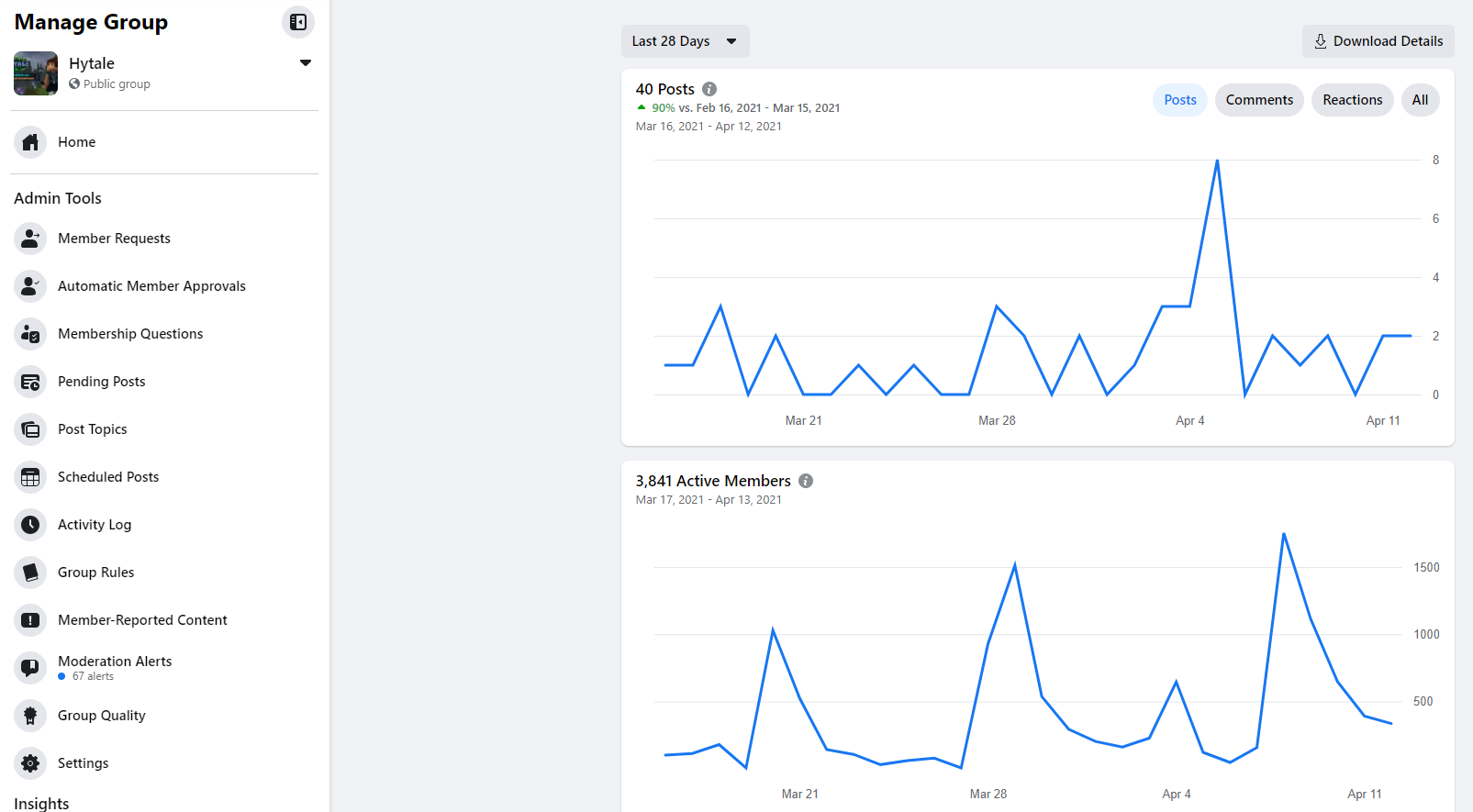 If you haven't already, you can also find us on Discord at the following URLs:
Hytale Hub:
https://discord.gg/JErtF7H
HYTALE:
https://discord.gg/tVQ97Nq
R/HytaleForum:
https://discord.gg/5Hgf8Cs
Hytale Hosting:
https://discord.gg/SQv3Zha
Hytale Servers:
https://discord.gg/zRWKCZv
Hytale Names
https://discord.gg/yFbtzYP
Buytale
https://discord.gg/kqvdkGN
Hytale Bot
https://discord.gg/zVUyNWf
Hytale Wiki
https://discord.gg/SnvqsjP
Hytale Market
https://discord.gg/PH5mP5ppBz
That's all for today! In the next update, we hope to provide you all with a greater look into the client area, and control panel for Hytale Hosting, as well as more insight into Hymoji, Buytale, and the long-awaited revamp for HytaleHub.com
If you enjoyed this progress update, let us know below. If you have any critiques, suggestions, or other feedback, this is your chance to tell us!
Last edited:
5